Who we are
Our Ministry
Based in southern India [Andhra Pradesh, Orissa & TamilNadu] with a staff of over 50 men and women, GSM India is a humanitarian organization that operates as a non-governmental organization in India and a non profit ministry in United states & Netherlands. Although our campus in Thippalakatta functions as the hub of our ministry, We oversee More than 500 village churches, orphanages, Old Aged Homes, Bible schools, medical centers and numerous ministries.
Our Nation
India consists of 28 states and is the seventh largest country in geographical area. With the second largest population in the world, India has a coastline of 4,671 miles.
Four major world religions, Hinduism, Buddhism, Jainism and Sikhism originated here, while Zoroastrianism, Judaism, Christianity and Islam arrived in the first millennium CE and shaped the region's diverse culture.
Gradually annexed by the British East India Company from the early eighteenth century and colonized by the United Kingdom from the mid-nineteenth century, India became a modern nation state in 1947 after a struggle for independence that was marked by widespread nonviolent resistance.
India has the world's twelfth largest economy at market exchange rates and the fourth largest in purchasing power. Economic reforms have transformed it into the second fastest growing large economy; however, it still suffers from high levels of poverty, illiteracy, and malnutrition.
Persecution against Christians:
Frequent incidents of violent acts of force, including torture, slavery, expulsion, or the withholding of food and humanitarian aid that frequently cause severe d epravation or death.

Repeated human rights offenses that occasionally may result in the loss of life and include lengthy detentions, beatings and the confiscation or destruction of property.

Numerous violations that include fines, discrimination in education, employment or the electorate process, insufficient legal representation, and restrictions on places of worship. Widespread persecution of Christians!!
Our History & Leadership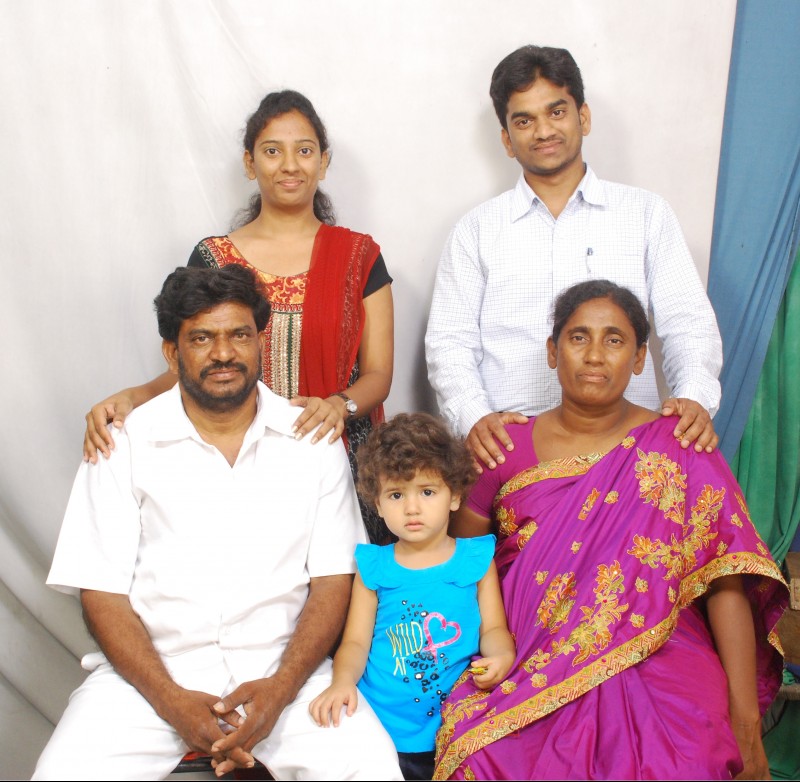 GSM – India is Christ–Cente non-profitable organization established in India around 35 years back. With a great Vision for India to reach the Unreached and to obey our Lord's loving last command (Great Commission) Matthew 28 :18-20, Matthew 24 : 14

Over 35 years ago, a family Mr & Mrs. Prakash Pallikonda were nudged by God to reach the unreached people of rural India and subsequently founded GSM India. Because of their passion for God and dedication to those within the lowest castes, many lives have been changed throughout the states of Andhra Pradesh, Orissa and Tamil Nadu. With a rich history and a tremendous foundation, they passed on the leadership of GSM India to their son, Eva. P. James Babu

Having earned a B. Tech. (Bachelor in Technology), M. Div. (Master's in Divinity) and chosen by the Lord Almighty in his very young age to show the love of Jesus to the unreached.
Our Mission
Our mission is to carry Christ's compassion to every village in India. As we faithfully carry out this mission, our long-term vision (Vision 2020) is to
To reach 10 million people in 5,000 unreached villages with God's grace.
To construct 1,000 permanent church buildings in India.
To establish 10 Bible colleges so that Indians will be equipped and sent out.
To provide 1,000 pastors with ministry tools [bicycle, drum, PA, and lights].
To conduct hundreads of pastor conferences to equip and train the workers.
To develop teams of prayer partners in every country in the world.
To reach the unreached villages and start new churches throughout India.
To provide shelter, food, and education to the neglected children and orphans.
To provide safe drinking water in every village where it is not available.
To build AIDS and HIV care centers so we can comfort people with eternal hope before they die.
To be self-supporting as our ministry continues to grow.

Our Statement of Faith
We believe that there is one living and true God, eternally existing in three persons: the Father, the Son and the Holy Spirit, equal in power and glory; that this triune God created all, upholds all, and governs all.
We believe that the Scriptures of the Old and New Testaments, in their entirely, are the Word of God, fully inspire, without error in the original manuscripts, and the infallible rule of faith and practice, and are eternal truths that are to be experienced and practiced by believers for all time.
We believe in God the Father, an infinite, personal Spirit, perfect in holiness, wisdom, power and love; tat He concerns Himself mercifully in the affairs of men; that He hears and answers prayer; and that He saves from sin and death all who come to Him through Jesus Christ.
We believe in Jesus Christ, God's only begotten Son, conceived by the Holy Spirit. We believe in His virgin birth, sinless life, miracles and teachings, His substitutionary atoning death, bodily resurrection, ascension into heaven, perpetual intercession for His people and personal, visible return to earth.
We believe in the Holy Spirit, who came forth from the Father and Son to convict the world of sin, righteousness, and judgment, and to regenerate, sanctify and empower for ministry all who believe in Christ; we believe the Holy Spirit indwells every believer in Jesus Christ and that He is an abiding Helper, Teacher, and Guide. We believe in the present ministry of the Holy Spirit and in the exercise of all the biblical gifts of the Spirit.
We believe that all men are sinners, by nature and choice, and are therefore under condemnation; that God regenerates by the Holy Spirit those who repent of their sins and confess Jesus Christ as Lord; that Jesus baptizes the seeking believer with the Holy Spirit and power for service, often subsequent to regeneration.
We believe in the universal Church, the living spiritual Body of which Christ is the Head and all regenerated persons are members.
We believe the Lord Jesus Christ committed two ordinances to the Church: Baptism and the Lord's Supper.
We believe in the future, personal, visible return of Christ to earth and the establishment of His Kingdom; in the resurrection of the body, the final judgment and eternal blessing of the righteous and endless suffering of the wicked.